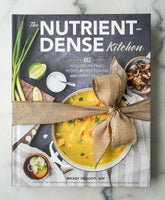 Signed Book Sale!
Get your hands on a signed and personalized copy of one (or both!) of my cookbooks!
For a limited time and while supplies last, I'm selling signed, personalized copies of The Autoimmune Paleo Cookbook and The Nutrient-Dense Kitchen. 
With your order, you'll get to choose who I make your book out to, as well as a custom message you want added along with my signature.
NOTE: I am only able to sign and personalize books purchased here on mickeytrescott.com!
Click here for the signed book sale!
Hi, I'm Mickey!
I'm a chef and certified Nutritional Therapy Practitioner who helps people find creative solutions to preparing, cooking, and succeeding on allergen-free diets like the Autoimmune Protocol. 
I've been living an AIP lifestyle since my diagnosis of Hashimoto's and celiac disease in 2011, after which I experienced a massive health crisis. The Autoimmune Protocol completely changed my life, and I decided to get to work creating approachable resources for those who wanted to change their lives too.
Learn more about mickey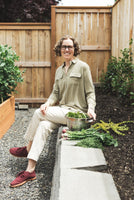 Praise for Mickey's Work
"Thanks to our modern diet, most of us are over-fed but under-nourished. In this book, Mickey shows us why the nutrient density of our food is so important, and how to create delicious meals that are also deeply nourishing and healing."

Chris Kresser, MS LAc, New York Times best selling author of The Paleo Cure and Unconventional Medicine
"I was diagnosed with MS 8 years ago and was on the Atkins diet for over two years without any improvement. 8 weeks ago I started the AIP, following primarily Mickey's recipes. Yesterday I discovered that I can do squats without holding onto anything, which hasn't happened since my diagnosis!"

The Autoimmune Paleo Cookbook reader
"Mickey has taught me so much about what dealing with autoimmune disease - and healing oneself with a nourishing, ancestral diet - really looks like. She is a force in the community and her work has change innumerable lives. Her story is powerful, and her recipes are incredible."

Liz Wolfe, NTP, author of Eat the Yolks